Download Syllabus
Hello Design Thinking
An introduction to the foundational concepts and tools of design thinking
Hello Design Thinking
An introduction to the foundational concepts and tools of design thinking
Preview Course
Go Deeper with Certificate Programs
Take your design thinking skills further with these certificate programs:
Meet Your Instructors
David Kelley
IDEO Founder and Chairman
David's most enduring contributions are in human-centered design methodology and design thinking. He and his brother co-authored the New York Times best-selling book Creative Confidence. David has been recognized with numerous awards and holds honorary PhDs from Dartmouth and Art Center College.
More About David
Deepen Your Learning
Downloadable Workbook
Receive a workbook with reflection questions, instructions for activities, and supplemental resources from the course.
Practical Activities
Learn activities and mindsets you can practice on your own or with your team.
Certificate of Completion
After completing the course, receive a certificate of completion.
Learn more about the
IDEO U Learning Experience
Frequently Asked Questions
Loved by Learners Across the Globe
Hello Design Thinking
Self-Paced Course
"A wonderfully designed course with really insightful concepts. I actively took notes throughout. I come from a highly experienced management consulting background - I can recognize strong frameworks and ideas!"
Hello Design Thinking
Self-Paced Course
"I've read a lot about Design Thinking but never before have I had such a simple and complete explanation with hands-on exercises to understand it in such a great way!"
Hello Design Thinking
Self-Paced Course
"IDEO U brings IDEO next to me, making it so much easier to introduce design thinking to others in my various companies. I don't feel lonely anymore as a design thinking practitioner and advocate."
Hello Design Thinking
Self-Paced Course
"The course was a great introduction. It was just the right amount of information to introduce the concept. The case studies and activities helped drive home the point of each phase that was introduced."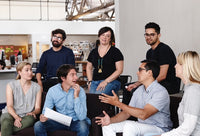 Enroll As a Team
The practice and application of design thinking, innovation, and creativity is highly collaborative and team based—which is why we believe that learning is better together. Take a course as a team and develop new skills and mindsets, have deeper discussion during course kickoff and debrief sessions, and build a shared understanding.
How to Enroll as a Team