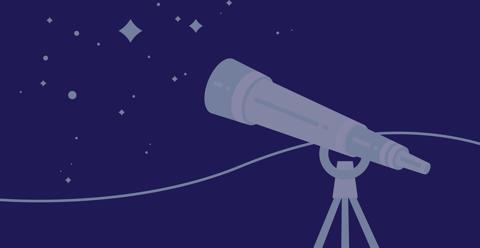 Go Deeper with Certificate Programs
Power of Purpose is part of a certificate program:
Meet Your Instructors
Joe Brown
Portfolio Director at IDEO
Prior to IDEO, Joe taught courses in Marketing and Organizational Behavior at the Stanford Graduate School of Business, where he also earned his MBA. Before that, he edited textbooks for the SAT, moonlighted as an interaction designer, and sold art in several New York galleries.
More About Joe
Deepen Your Learning
Downloadable Workbook
Receive a workbook with reflection questions, instructions for activities, and supplemental resources from the course.
Practical Activities
Learn activities and mindsets you can build into your work and share with your team to bring more meaning to your every day and connect with your purpose.
Certificate of Completion
After completing the course, receive a certificate of completion.
Learn more about the
IDEO U Learning Experience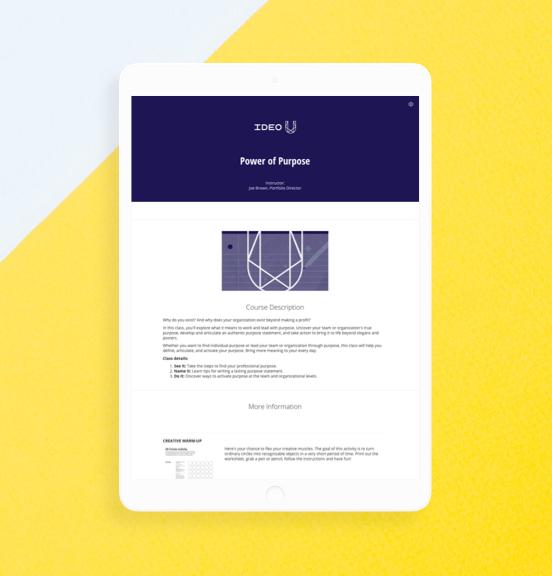 Frequently Asked Questions
Loved by Learners Across the Globe
Power of Purpose
Self-Paced Course
"I am convinced that this is one course which everyone in my organization should take. This class taught me how defining a purpose helps everyone to connect to the final outcome and impact it has on everyday life in the organization, in the team, and at a micro-level on an individual."
Power of Purpose
Self-Paced Course
"Content was very useful and organized in a way that kept me engaged. Loved the variety of video, reading and activities. I also appreciated the link to the studies so I could dig in further on some topics."
Power of Purpose
Self-Paced Course
"By acknowledging a purpose for my work, I am motivated and connected to every email, assignment, and project. This course has allowed me to see the bigger picture of my work. I would encourage everyone and anyone to take this course to align their purpose with their passions!"
Power of Purpose
Self-Paced Course
"I just love how fresh your courses feel and sound. Your design sense comes through and helps me see information or ideas I've come across before in new ways. I also love that you always give me new exercises or ideas that are simple and powerful."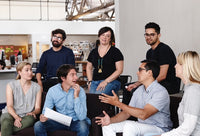 Enroll As a Team
The practice and application of design thinking, innovation, and creativity is highly collaborative and team based—which is why we believe that learning is better together. Take a course as a team and develop new skills and mindsets, have deeper discussion during course kickoff and debrief sessions, and build a shared understanding.
How to Enroll as a Team