Download Syllabus
Unlocking Creativity
Exercises to overcome the common barriers to creativity
Go Deeper with Certificate Programs
Unlocking Creativity is part of a certificate program:
Meet Your Instructors
Suzanne Gibbs Howard
IDEO U Founder & Former Partner, IDEO
Suzanne founded IDEO U and has led work in organizational design, corporate innovation, and design for education. At IDEO, she pioneered many of the techniques now at the forefront of design and user experience research. Suzanne has a bachelor's degree in Archaeology and African Studies from Northwestern University and a master's degree in Anthropology from the University of Chicago.
More About Suzanne
Deepen Your Learning
Downloadable Workbook
Receive a workbook with reflection questions, instructions for activities, and supplemental resources from the course.
Hands-On Activities
Try out several activities that will shake up your status quo and practice adopting new mindsets to unlock a different way of thinking.
Certificate of Completion
After completing the course, receive a certificate of completion.
Learn more about the
IDEO U Learning Experience
Frequently Asked Questions
Loved by Learners Across the Globe
Unlocking Creativity
Self-Paced Course
"This class is especially great to do at your own pace. I desperately needed the creative pick-me-up and my own bit of fun and inspiration and 'kick in the pants.' The energy and thoughtfulness brought by the instructors was just what the Creativity Doctor ordered. Their brightness, openness, and joyful spirit (coupled with the super detailed and awesome activities workbook) will be incredibly inspirational in helping get my team back on track!"
Unlocking Creativity
Self-Paced Course
"IDEO's way of presenting new approaches to creativity is mind blowing and far away from traditional teaching methods."
Unlocking Creativity
Self-Paced Course
"I discovered and learned new things. I found ways to extend and combine what I had been practising so far with new learning from this class to deepen my creative confidence."
Unlocking Creativity
Self-Paced Course
"Courses are engaging and flexible and I love that I can begin practicing what I learn right away."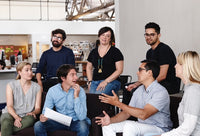 Enroll As a Team
The practice and application of design thinking, innovation, and creativity is highly collaborative and team based—which is why we believe that learning is better together. Take a course as a team and develop new skills and mindsets, have deeper discussion during course kickoff and debrief sessions, and build a shared understanding.
How to Enroll as a Team